Qualified and experienced guides
All Hotsun safaris treks up the mountain are lead by highly trained and qualified guides, registered with the Kilimanjaro National Parks Board. Each of our guides have been selected over years, based on experience, safety record and through feedback from previous clients.
Guide and Porters are the masters of the mountain
Once on the Mountain, your well equipped guides and porters, will rank second, only to your mental determination, in terms of important factors contributing to a successful summit attempt.
For the duration of your Kilimanjaro trek, your guide will be your advisor, he will lead you to the summit, and he will bring down safely again. It will be important that you work closely with him and take note of his advice. The guide recruits the porters and trains up a team which he himself will lead. Just before moving off, he spreads the loads between them not more than 15kgs. for each porter. He accompanies the climbers during the entire trek and can generally answer any questions about plans and wildlife. On the camp group, guide and porters make the camping arrangements and prepare meals. Their day's work begins before the climbers wake up and ends late with lengthy conversations and card games long into the night. not to bring.
Safety at kilimanjaro
highly recommend that every traveller intending to climb Mt kilimanjaro should secure a travel insurance, All climbers should have a medical check prior to attempting the mountain. Ask your doctor if high altitude trekking is permissible for your age, fitness level and health condition. Ask if you have any preexisting medical conditions that can cause problems on the climb. Ask if any of your medications can affect altitude acclimatization. Ask whether Diamox can be taken with your existing prescription medicines.
 drink lots & eat much
Drink lots and eat: We recommend a fluid intake of 5 – 8 litres daily (re-hydration salts). Fluid intake improves circulation and most other bodily functions. Fluid intake does not add to fluid leakage from the body. You need to drink lots of water. If your urine is clear, you are drinking enough. Drinking lots during the day will also help you to sleep well.Eating well gives your body the egergy and helps it to adjust accordingly to the altitude. Walk slowly: It is vital to place as little strain as possible on the body whilst it is trying to adapt to a reducing oxygen supply. Unless there is a very steep uphill section, your breathing rate whilst walking should be as if you are walking down the street at home.
Walk high Sleep low( pole pole in Swahili ): This means taking every opportunity to take afternoon excursions to a higher level before descending again to sleep. This is not a good idea however if you already have some symptoms of altitude sickness.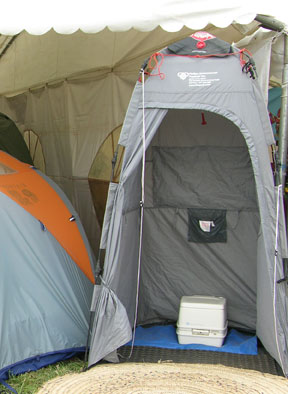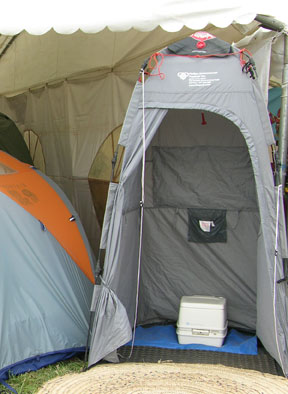 Bathroom on kilimanjaro
A nice little portable loo and tent
Mountain Rescue
Mt Kilimanjaro climbing is done by number of experienced mount Kilimanjaro guides, assistant guides as well as porters depending on the size of the group.
If it happens that our client fails to continue and has minor sickness they will be assisted by our guides and Mt kilimanjaro park rangers rescue team and descent the mountain and be taken to the hospital if needed to be.
While waiting for your colleagues in a hotel we will be monitoring your health as well as keeping you busy with other popular activities around Kilimanjaro region and nearby town of Arusha. But all depends with the itinerary and time available.
If it happens that our client fails to continue and has minor sickness they will be assisted by our guides and Mt kilimanjaro park rangers rescue team and descent the mountain by a wheel stretcher to the base of the mountain where there would be a rescue tranport waiting be taken to the nearest hospital as soon as possible. Or the other option and which is very advanced and reliable is by using helicopter.
The company has entered a contract/membership with Intensive Care Air Ambulance (ICAA) AMREF Flying Doctors which can evacuate you incase of any problem should it arise. The rescues at Mountain Kilimanjaro take effect from 4000m high and below. Worry not if you are at the high point than that you will be taken down to where the helicopter is by our crew and mt kilimanjaro park rangers rescue team.
For more information about the Air Ambulance please read this website: http://www.amref.org
Healt consultants
Knee problem
Fructure
Sprain
dehydration
hypothermia
cold and coughs
frostbite
sunburn
sprain
dehydration
Precaution: Don't involve on smoking or drinking alcohol when attempting this mountain as it might bring about losing energy to accomplish this adventure of your life time.